Nozbe Personal on Android
We now have an Android Widget you can use. Nozbe Personal widget for Android works online, and it automatically refreshes every 30 minutes (or when you force the sync).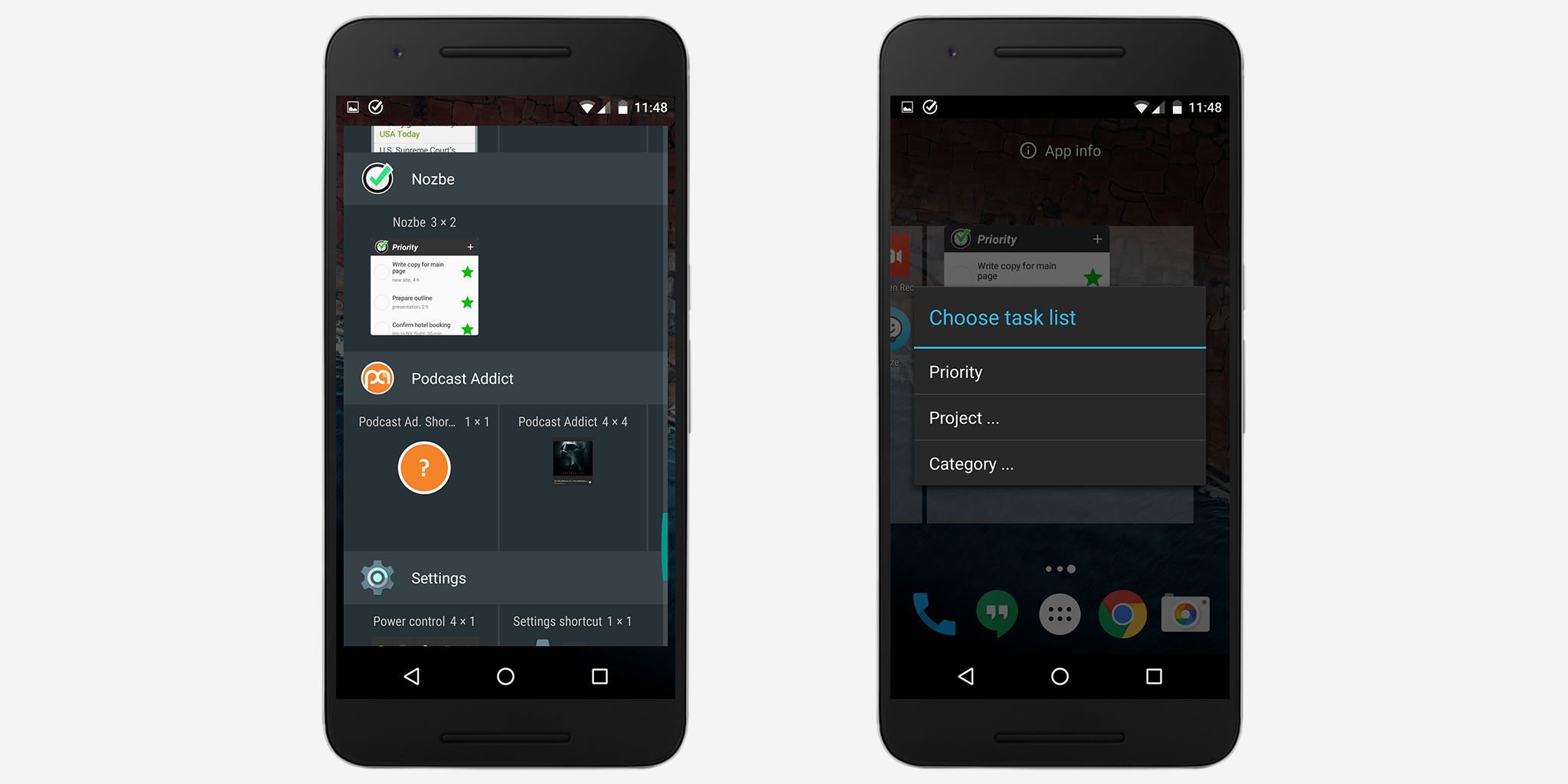 You can add it to your home screen very quickly. Choose "add widget" in your device's settings and then choose a Nozbe Personal application. Please remember that this option may look differently on your Android device.
You will see a few options. You can choose the one that suits you best. Our widget allows you to add the following task lists to your desktop:
Priority
Inbox
Project
Category
Today
Overdue & Today
This Week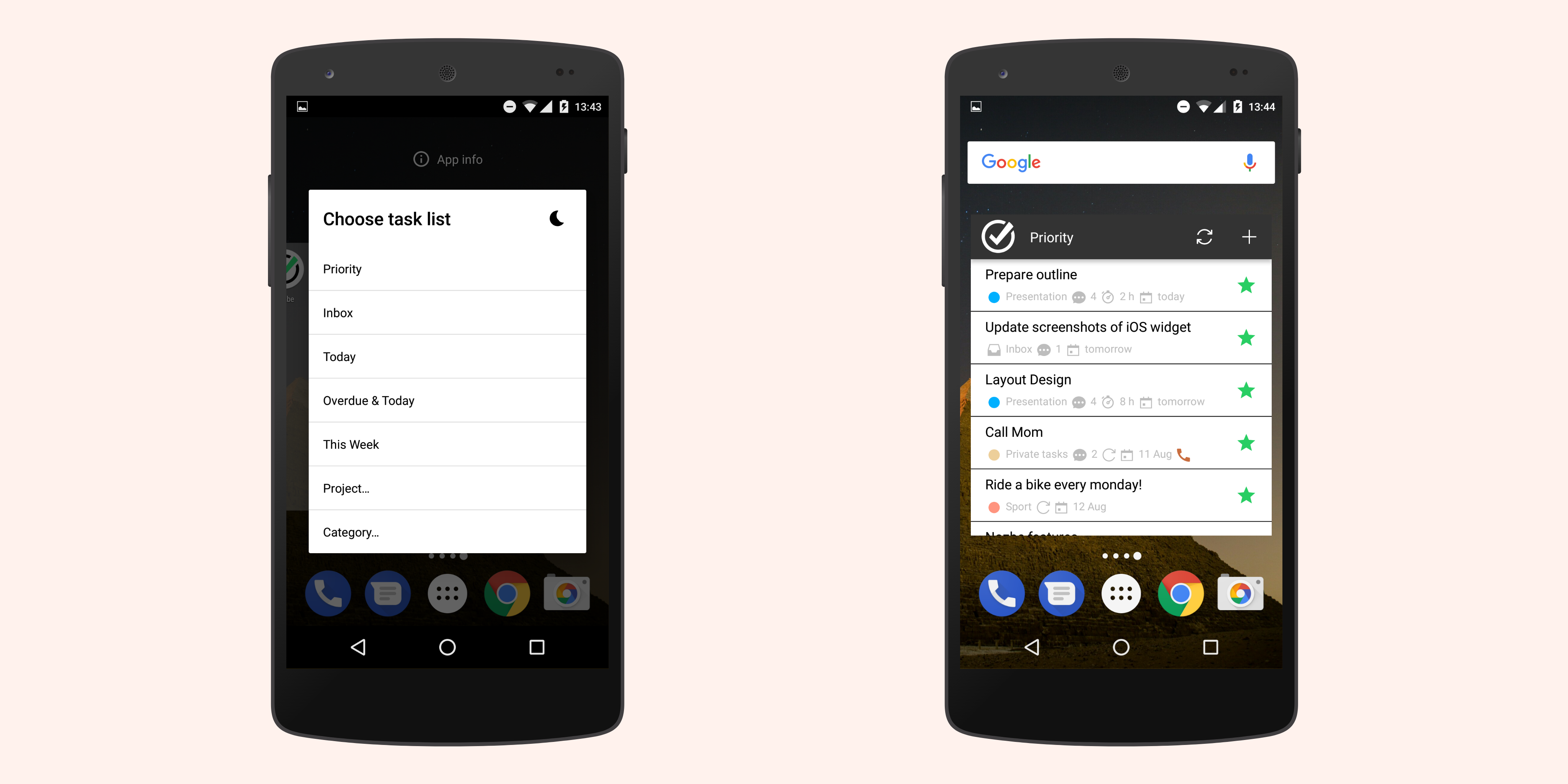 You can add as many widgets as you want (if you have space on your home screens).
Of course, you can resize it any way you want:
What can you do in Nozbe Personal Android widget?
You can add tasks to your list.
Refresh widget state.
Open list directly in the app by tapping on it.
When you select a task in a widget, you can:
✅ Complete it
💬 Add a comment
⭐️ Toggle priority
📲 Open it in the app
You can also select multiple tasks and complete them at once.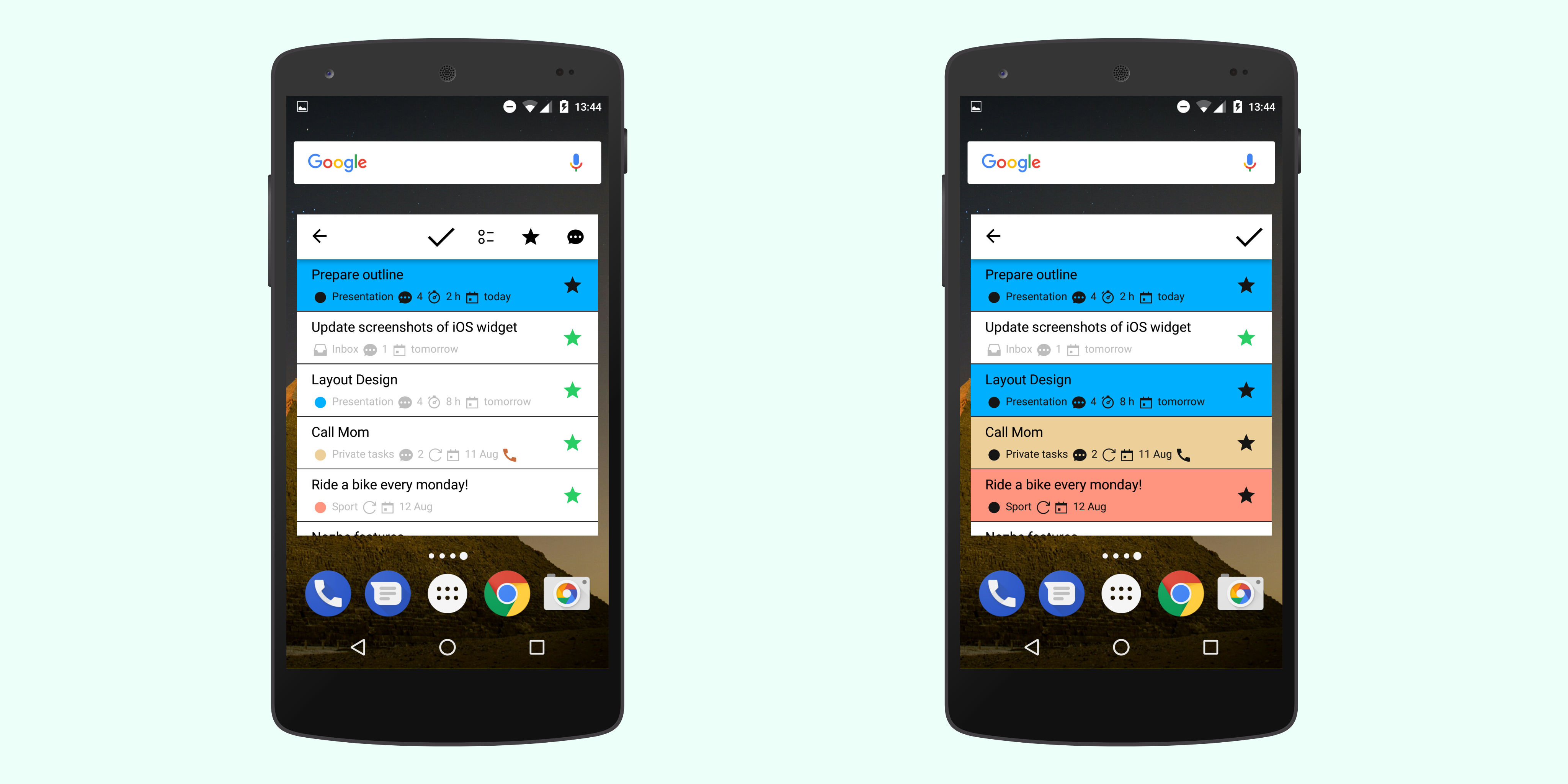 Please remember that if you move Nozbe Personal app to your SD card, the widget stops working correctly. Also, if you added the Nozbe Personal widget to your screen, make sure you don't activate any energy-saving option. It may stop the widget from working.
Quick Add
Nozbe Personal for Android now features Quick add, which allows for quick task adding from any screen on your device without even opening the Nozbe Personal app itself. To turn on this feature, go to the Settings -> General -> Local settings and check "Quick add."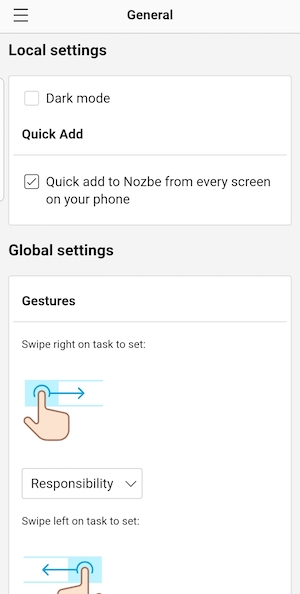 All you have to do is pull down the notification bar; you will see Nozbe Personal icon on the Android status bar, tap on the always visible "Add task to Nozbe Personal" notification and enter task name. Not only that! You can also specify a project, category, due date, the time needed, and delegation. You can add a comment and priority to the task as well.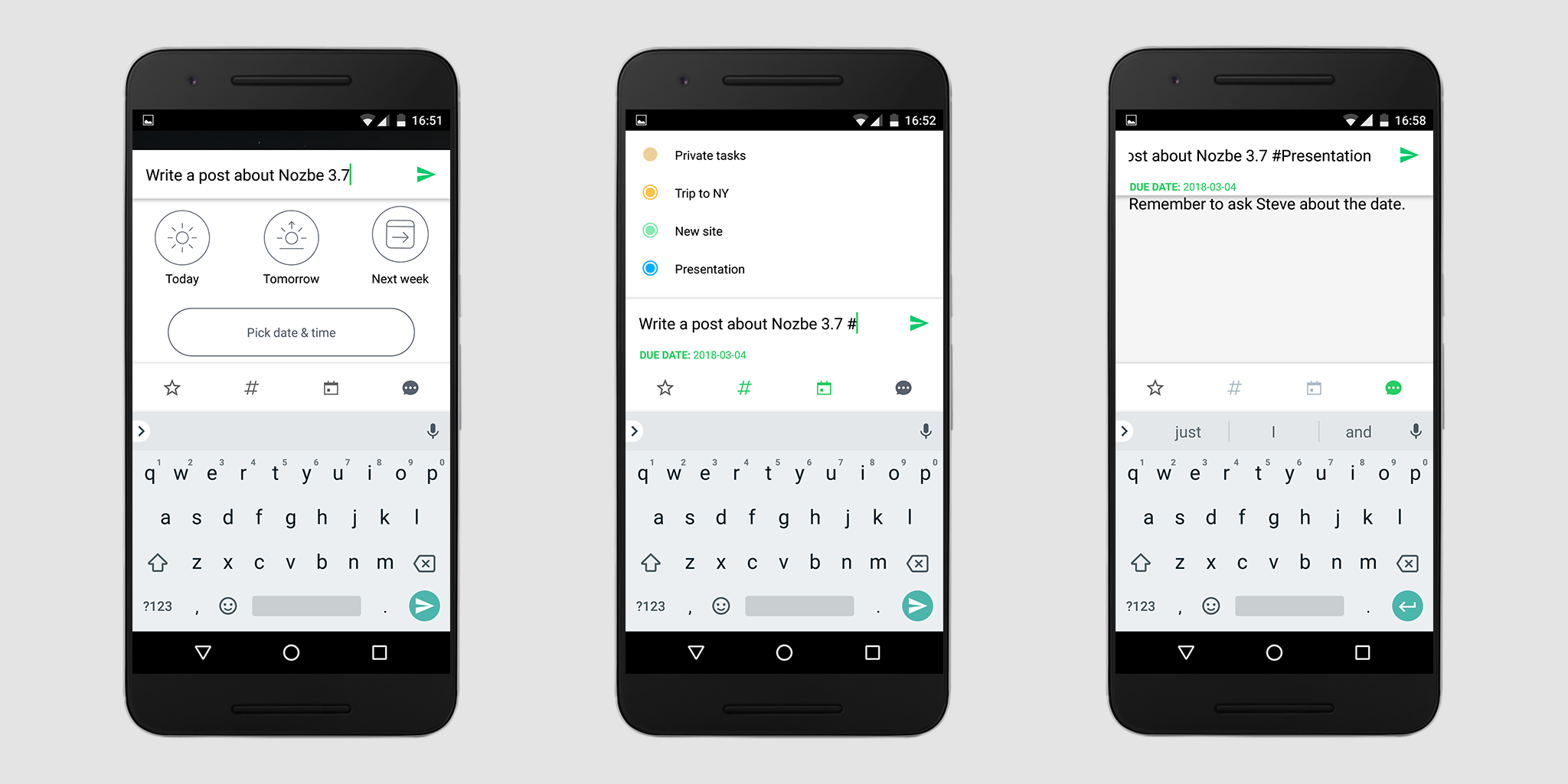 If you don't see it, please go to "Settings" -> "Apps" -> "Nozbe Personal" -> "Notifications" and turn the option on. Otherwise, the Quick Add won't work.
You can also quickly add a task without opening the Nozbe Personal app just by using our 1-by-1 widget. It's a small widget with the Nozbe Personal logo and a plus sign on it. Just tap on it and add a new task with all the parameters you need. It's quick and easy!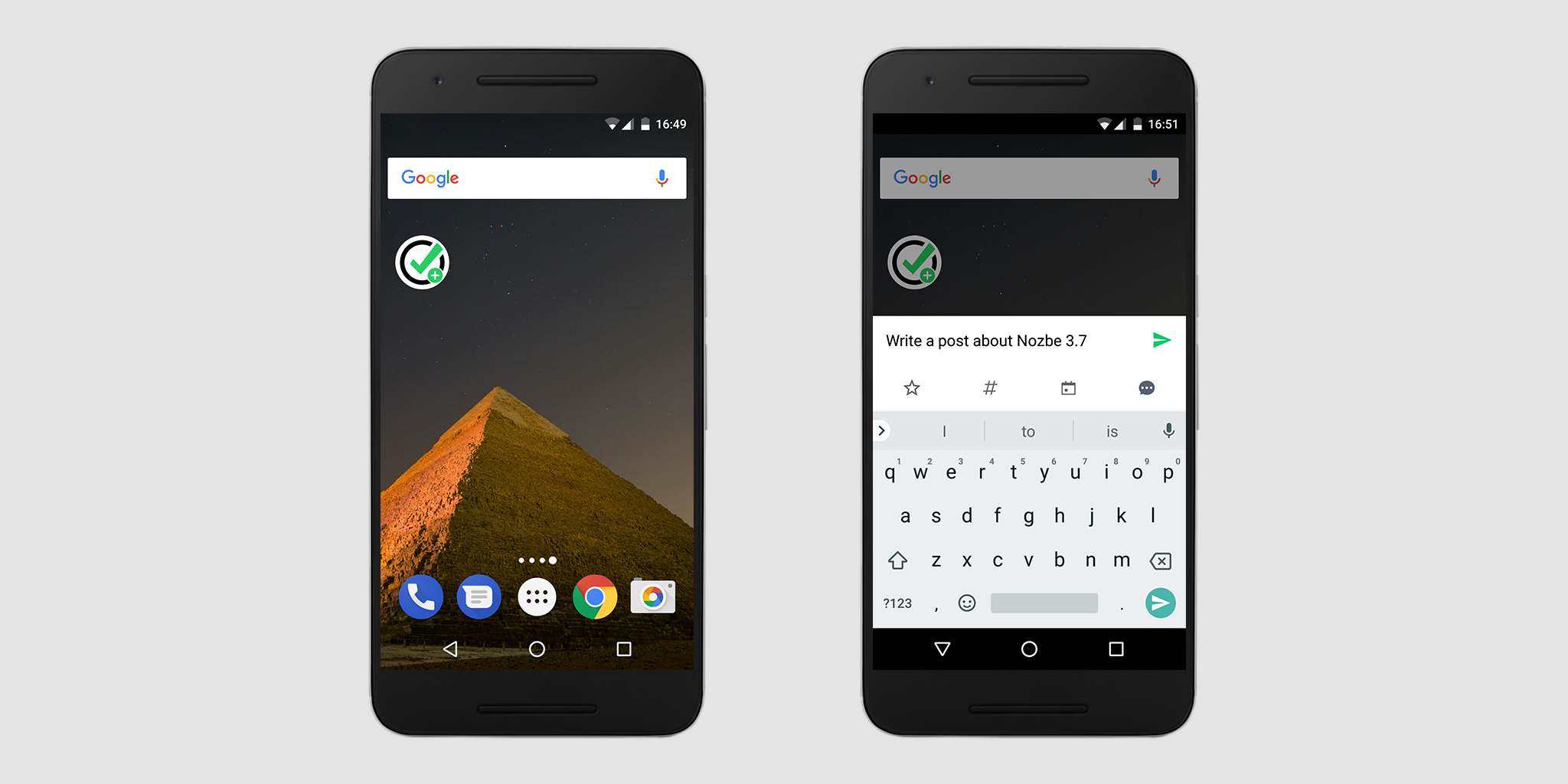 Notification Channels
If you have Android 8.0 or higher, you can customize notification channels in Nozbe Personal. Every channel can have its own settings (e.g., sound, behaviour, etc.). This way, you can quickly filter the notifications that are most important to you and your workflow. We also made some changes under the hood to optimize the process of delivering Nozbe Personal notifications.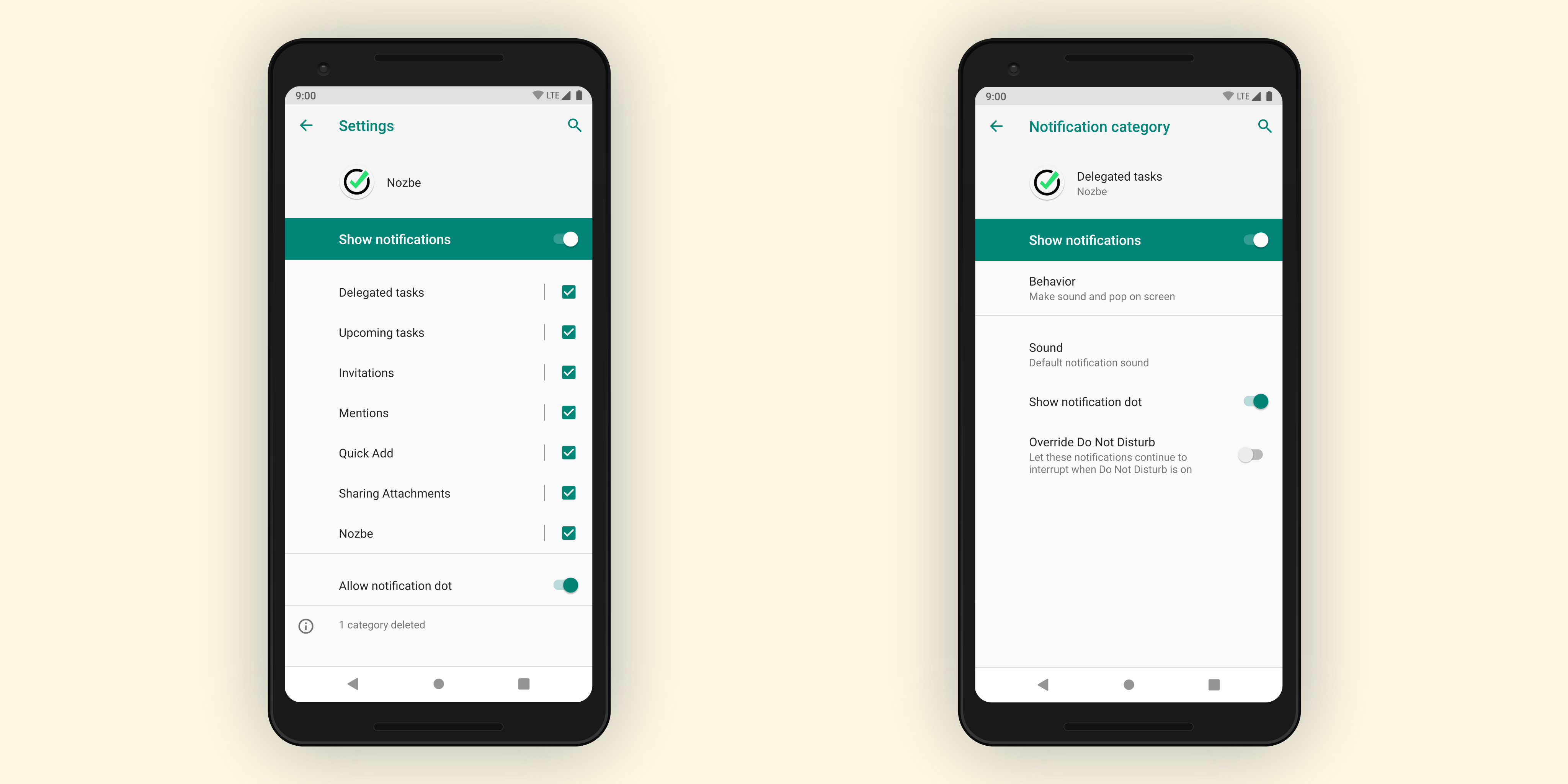 The Notification Panel on Android also has a Quick Settings Tiles. If you are on Android 7.1 or higher, you can add the Nozbe Personal Quick Add there.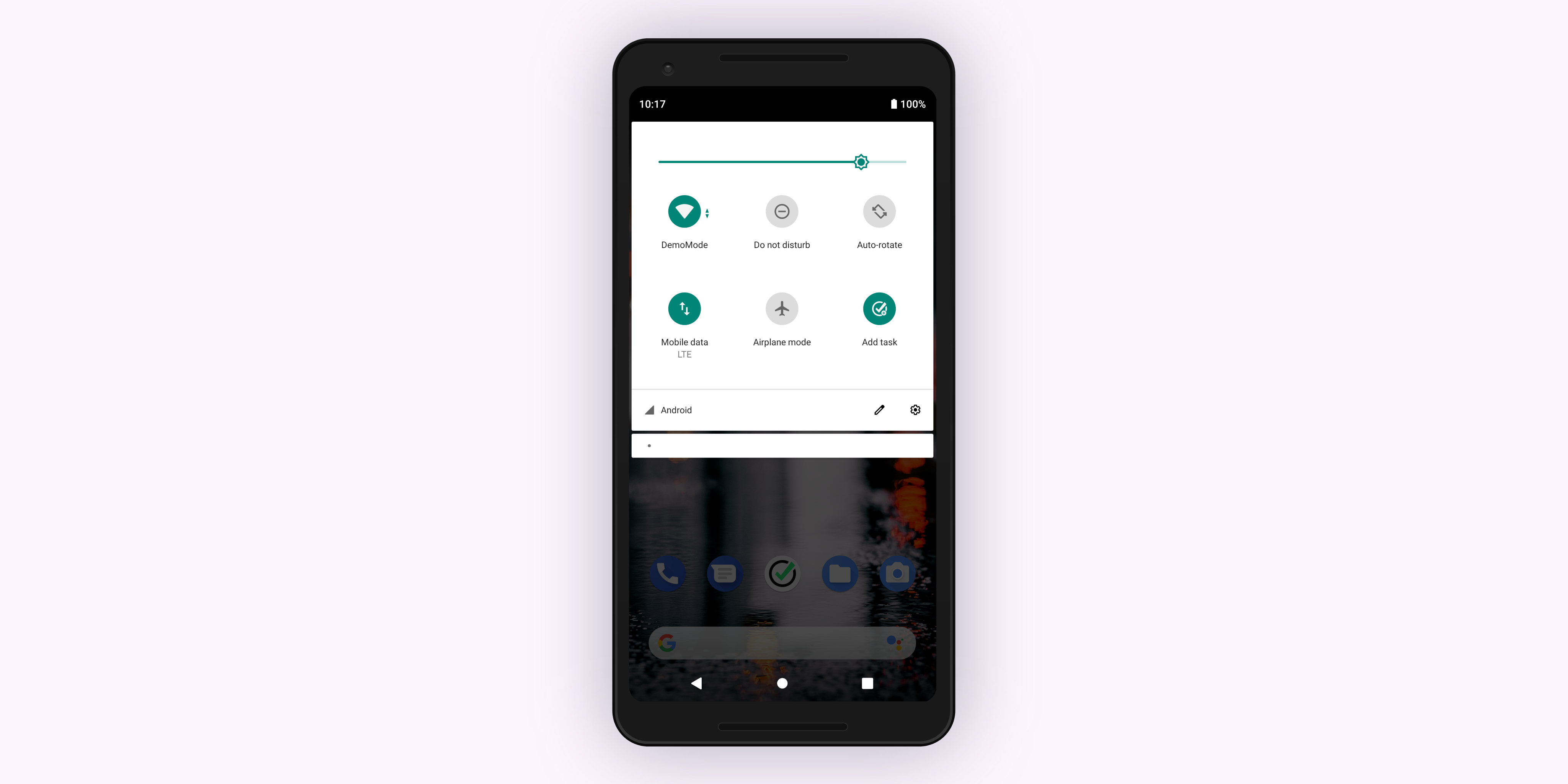 Task's Options
When you open a task in your mobile app, you have several options available to you. Just tap on three dots displayed at the bottom to open the menu. There you can choose what to do with the task.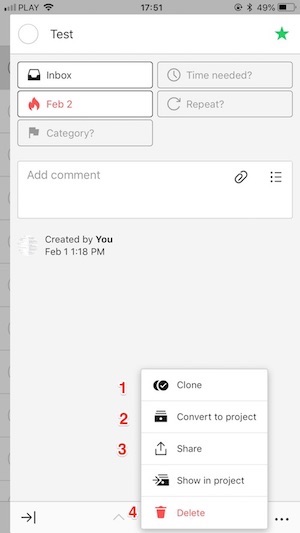 You can:
Clone it (1) A task will be copied in the same project.
Convert it to project (2)
Share it to other apps (3). You can send your task to an app available on your smartphone, e.g., Facebook or any other social media channel
Delete it (4)
Back Button
Use the 'back' button to go back to the previous view. For example:
Opened icobar with the closed sidebar - the app will be closed
Opened sidebar - the sidebar will be closed
Opened task list - the left menu will show up
Opened task's details - the details will be closed
etc.
Shortcuts on Android
You can add shortcuts to Nozbe Personal in many places within the Android system.
Under the app icon, you will find:
📆 Calendar
💬 Comments
⭐ Priority
➕ Add to Nozbe Personal
Just press and hold the Nozbe Personal icon, and you can drag shortcuts to your home screen or launch them.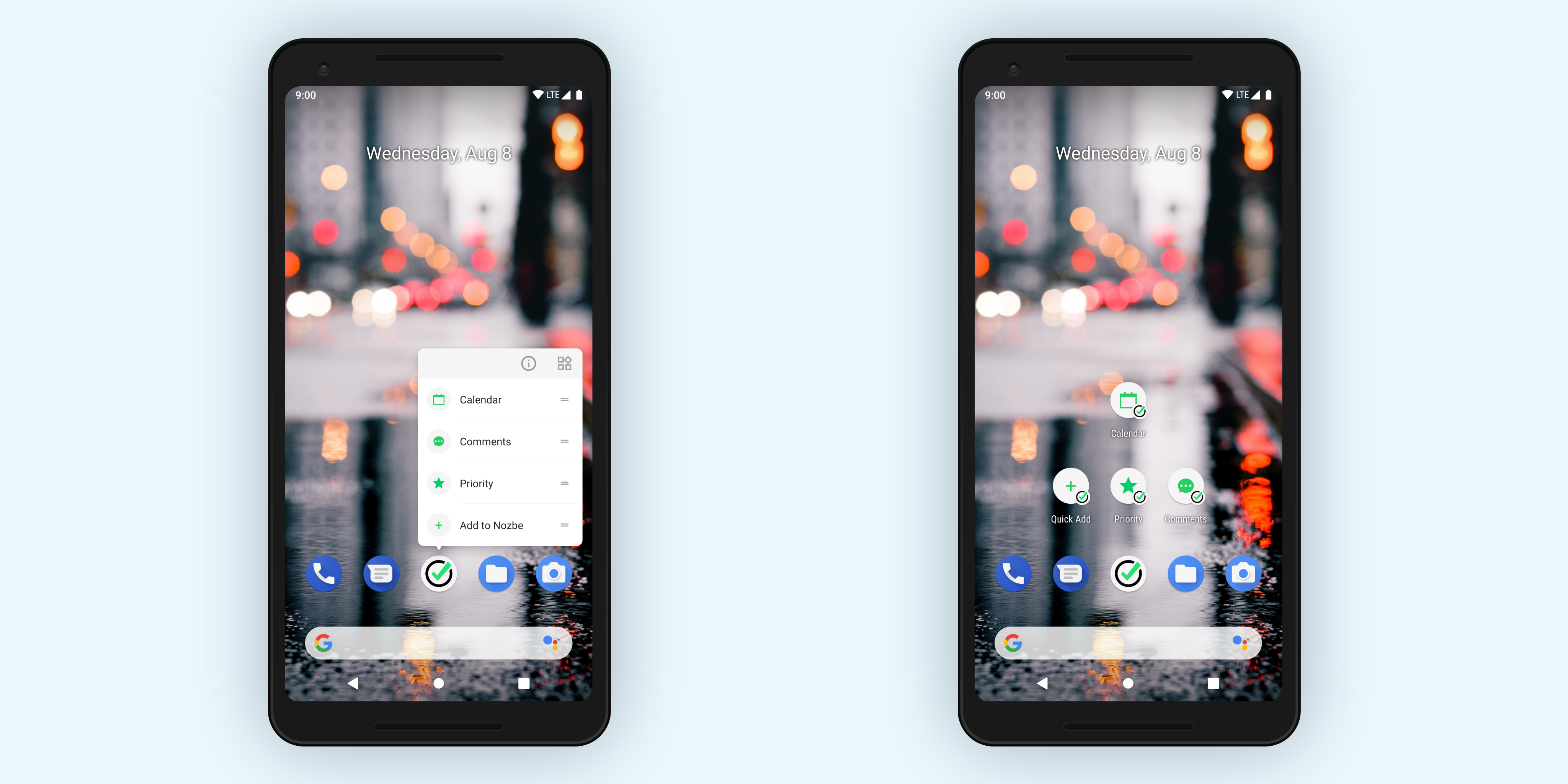 Please note that this feature requires Android 7.0 or higher.
Share to Nozbe Personal
Sharing from other apps in Android is very easy, thanks to native share menu support. Tap 'Share' in the app's options, select Nozbe Personal, and add a task. The item that you wish to share will be added as a comment to a task. That way, you can easily send a URL link or some photos to Nozbe Personal as a task and quickly set all the parameters you want.
Thanks for sending us a message. We'll get in touch as soon as possible!