Nozbe Personal Plans 30-day Nozbe Personal Trial
At Nozbe, we understand that peoples' needs vary, and we don't want to charge you for our service unless you're totally happy with it. That is why our new customers can test Nozbe Personal for full 30 days for free, and if they decide to pay, they are still covered by our additional 30-day money back guarantee.
Signing up for a trial account gives you a chance to use Nozbe Personal with all its fantastic features and possibilities it offers - you can create unlimited projects, tasks, and notes as well as invite as many people to your team as you want.
During the trial period, you can use Nozbe Personal on any device you own.
Upgrading Your Account
When your 30-day free trial ends, you'll be prompted to start paying for your Nozbe Personal account.
This way you will be able to continue smoothly developing your productivity system within Nozbe Personal and maintain the full access to our app. When setting up a paid account, you'll be charged for the plan which contains the actual number of accounts you have created during the trial period unless you decide to delete some of them or add further accounts before proceeding with the payment.
We offer various plans from Nozbe Personal Solo to Business and you can choose which one is the best option for you. You can always check our pricing page.
Important: if you are still not sure whether Nozbe Personal is what you need, don't worry! We offer every paying customer a 30-day money back guarantee. It means that you get all your money back if you cancel your Nozbe Personal account within 30 days of the payment.
Yearly savings!
Remember that you save 20% (that's more than two months free!) if you choose to pay for your account for one year in advance.
Our Nozbe Personal Plans
Solo/Duo
If you want to use Nozbe Personal alone, Solo plan is for you! Or you can choose Duo plan and invite your colleague, friend or partner, create a team and work together.  With this plans, you get: 
unlimited projects 
basic productivity reports 
email customer support
projects sharing: one guest and one extra admin per project
Small Business
These plans are the best options for small growing teams (4, 6 or 8 users). With this plans, you get:
unlimited projects 
basic productivity reports 
priority support
projects sharing: one guest and one extra admin per project
Business
It is a perfect solution for teams and companies of all sizes. It starts with ten users (10 accounts included in the initial plan). You can also choose bigger Business plans. Nozbe Personal Business Account comes with multiple business-oriented features such as:
unlimited projects
advanced productivity reports
advanced project sharing: unlimited users, guests and admins per project
advanced project sharing
dedicated training and introduction to Nozbe Personal in the company for account owner by video conference
VIP support with a dedicated account manager
Many more new characteristics are in plans.
Nozbe Personal Business Pricing
The pricing for these accounts is also different. Please refer to the pricing site to check on the current cost thereof.
Downgrade - Free Nozbe Personal Account
Yes, after 30 days of trying Nozbe Personal out you can still convert your trial account to a free one. As a user of the Nozbe Personal Free plan, you won't have access to the "You + Team" view. That means you won't be able to add people to your team or access the "All tasks" view, as well as generate productivity reports. Free license users can have up to five active projects, including both private and shared ones (vs unlimited projects on Nozbe Personal paid accounts), but maybe it's all you need. If you have less than five projects, you can always restore an archived project.
Please also note that the data storage limit on Nozbe Personal Free accounts is 500 MB.
Additional People in your Team
The major advantage of Nozbe Personal account is its flexibility. Being an account owner you can remove inactive users as well as add new users whenever you need. 
Do you need to adjust the users limit in your team? In this case, you have to switch to a different plan. You'll pay the full price for the new plan depending on the selected option for a year or a month. The system recalculates the unused funds from your previous subscription and adds the additional weeks/months to the validity of your new plan. So basically, you extend your account with a month/year + additional weeks/months from the unused funds.
Nozbe Personal Prices
Nozbe Personal's prices are different in different markets, for up-to-date pricing details, go to our home page or our order page and choose your country:
In most of the countries, we charge in US Dollars ($/USD)
In Japan, we charge in Japanese Yen (¥/JPY)
In China, we charge in Chinese Yuan (¥/CNY)
In Russia, we charge in Russian Rubles (₽/RUB)
In most of the European Union, we charge in EURO (€/EUR) except Poland (where we charge in PLN - Polish Złoty) and the United Kingdom (where we charge in GBP - British Pounds). All EU prices include the Value Added Tax (VAT) of 23%
European Union VAT number for EU companies
If you plan to use Nozbe Personal for your company, and it is registered in the EU (except Poland), please remember to enter your company name and EU VAT number in appropriate fields - this way you won't be charged the Value Added Tax.
iTunes and App Store Payments
For our customers' comfort, we have two payment channels: you can either login to your Nozbe Personal account and make your payments and add new accounts via our secure system or use the in-app purchase option in Apple App Store (providing you use Nozbe Personal on your iOS or Mac device).
iOS users can make their monthly or annual payments and add new team members easily via their Apple account. In this case, Apple will send you an invoice, and if you want to stop the subscription, go to your Apple account –> 'subscriptions' and cancel it there.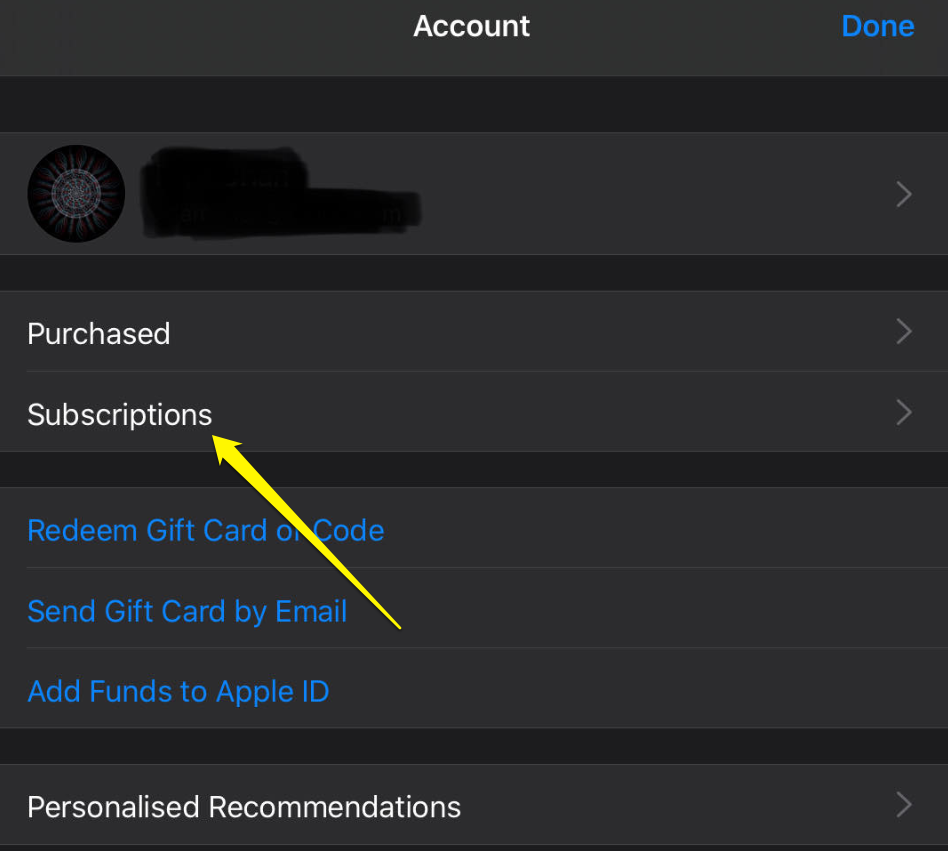 Please contact Apple if you want to receive a refund.
When you purchase a Nozbe Personal plan on our website, and you don't cancel the previous Apple subscription, both will be renewing. On the other hand, if you decide to change the payment method and start the Apple subscription, it can override the previous expiration date of your account and ignore the payment you processed via our payments site. In such a case, please contact us at questions@nozbe.com. We will correct this and add the previously purchased time to the account's expiration date.
Unfortunately, the various discounts we offer throughout the year aren't available on Apple. You can get them only on our website.
Accepted Modes of Payment
In the Nozbe Personal payment system, we accept credit cards (MasterCard, Visa, MaestroCard, JCB, American Express), PayPal and (for Poland only) wire transfers.
In the case of PayPal, both direct debits from a PayPal account and payment by credit card without PayPal account are accepted.
Wire transfers are limited to Poland only and will show as an option only after you introduce appropriate billing address during the checkout process.
We don't charge additional fees, but your banks might.
Nozbe.com (formerly Apivision.com) charges users only the fee as displayed on our website and in your payment confirmation. Please note that some banks may pose on your transaction additional fees for which Nozbe Personal takes no responsibility. If you decide to take advantage of our 30-days money back guarantee, we will refund only the fee as provided on our website.
Coupon codes
If you have a discount coupon (either from the special offer or our support personnel), please use the link to our payments site provided with this code. The code will be automatically applied on the payments site, and the value of it will influence what you see at the top of the page in the "Review Payment information" area. The code cannot be applied manually on our payments site.
Billing Cycles and Restrictions
All the payments are subject to auto-renewal, and by processing a payment, you acknowledge and accept this condition. You can stop the recurrence at any time. Either contact us and we will stop the billing cycle or cancel it yourself directly within the app. Just open Settings -> Account -> Payments and uncheck the "Enable auto-renewal payment" option.

If you cancel the automatic subscription, the account remains valid for the rest of the period that it has been paid for. Only wire transfers require manual renewal.
There are two types of cycles: monthly and annual (if you pay for one year in advance you save 20% - it's like getting more than two months free!).
If you pay for Nozbe Personal via App Store (iTunes), we can't help you with stopping your payment. Due to Apple's policy, only the owner of the account can cancel his/her subscription. In this case, please, make sure to stop recurring on your end in: "My account –> Manage my Subscriptions" in your iTunes account.
Canceling your Nozbe Personal Account
Money-back guarantee
We don't want to charge you for our service unless you're totally happy with it. We have a track record of more than 95% customers satisfaction so we're pretty confident you'll love how Nozbe Personal helps you get things done, but we don't want to charge you unless you're crazy-happy and productive.
As a new user, you can go for a 30-day free trial and then, once you decide to sign up for a Nozbe Personal account you have another 30 days to try out Nozbe Personal with all its fantastic features at no risk. If you decide to cancel your account within 30 days, do so and e-mail us, and we'll give you your money back. Every. Single. Cent. Nozbe Personal keeps the right to refuse granting multiple refunds.
How to cancel your Nozbe Personal account
If you wish to cancel your account, just go to your "Settings" section in Nozbe Personal and choose "Cancel my Nozbe Personal account" in the "Account" section.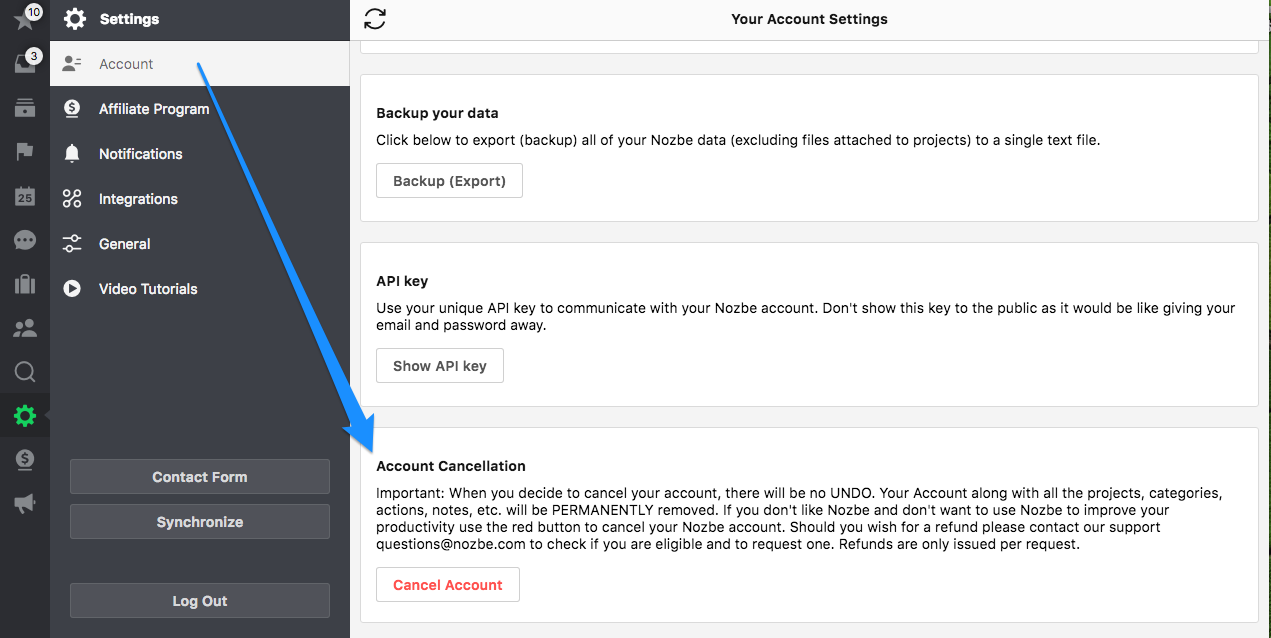 Once you click the link, you will be taken to the confirmation window. Remember! After confirming the cancellation, you won't be able to access your account, and any attempt to log in will result in error message informing you that there is no such account (unless you have created a new one under the same address).
Please note that Nozbe Personal newsletter system is separate and if you do not wish to receive further emails from us you will need to unsubscribe link that can be found at the bottom of any newsletter you have received.
Thanks for sending us a message. We'll get in touch as soon as possible!