iOS app
Native iOS features in Nozbe
iOS App
Adding tasks via Siri
On iOS 11 and higher, you can add tasks to Nozbe via Siri on your iPhone and iPad. Please note it does not work on macOS or Apple Watch. It may come in future updates.
After installing Nozbe from the App Store, you will be prompted to grant access to Siri. Just tap OK, and that's it. If you haven't been asked for it automatically, go to the Settings app on your iPhone -> Nozbe -> Siri & Search and make sure that you have both options turned on.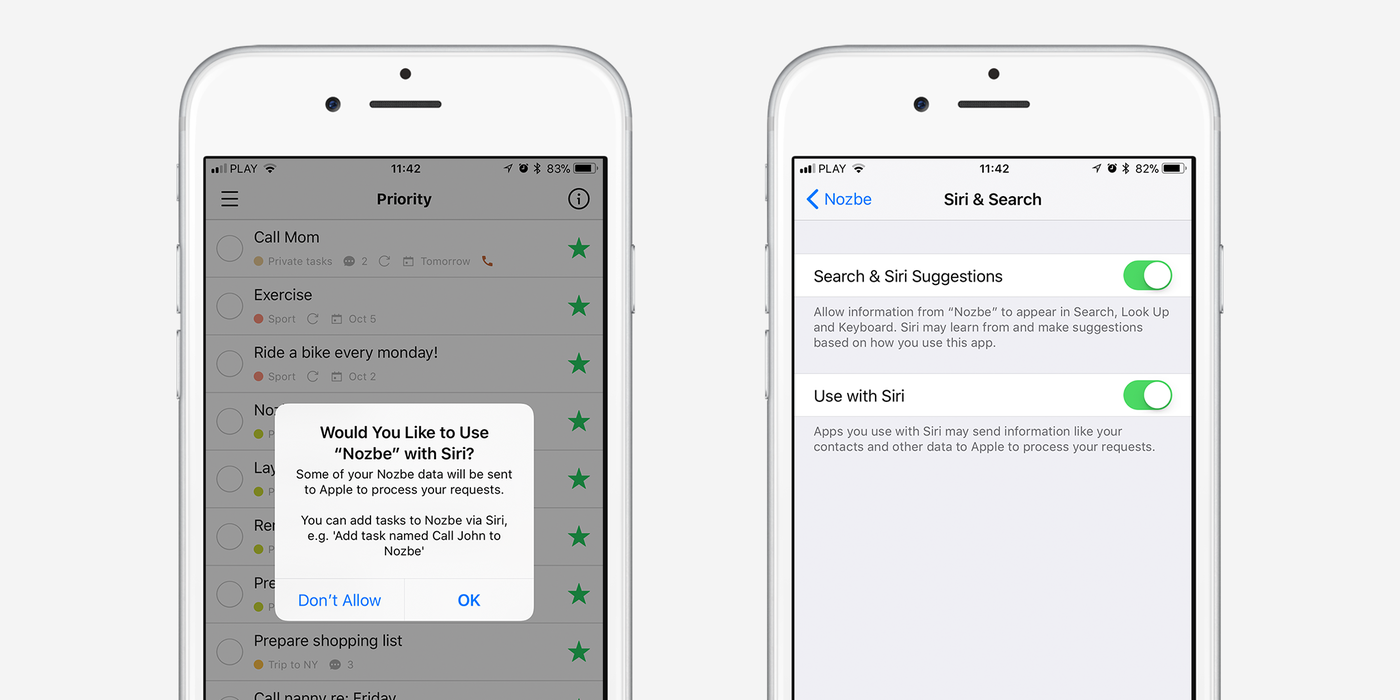 On iOS, you cannot select your default app for tasks/reminders. That's why if you say to Siri: "Remind me about sending wedding invitations tomorrow at 5 PM" Siri will add it to iOS Reminders app, not Nozbe. If you want to add the task/reminder to Nozbe, you have explicitly say this. We recommend to say it at the begin of a sentence. Here are some examples:
"In Nozbe remind me to do my weekly review on Friday at 8 AM"
"Using Nozbe add a task to prepare a Keynote to presentation list" - if you want to add task to specific project in Nozbe you need to use word "list" instead of project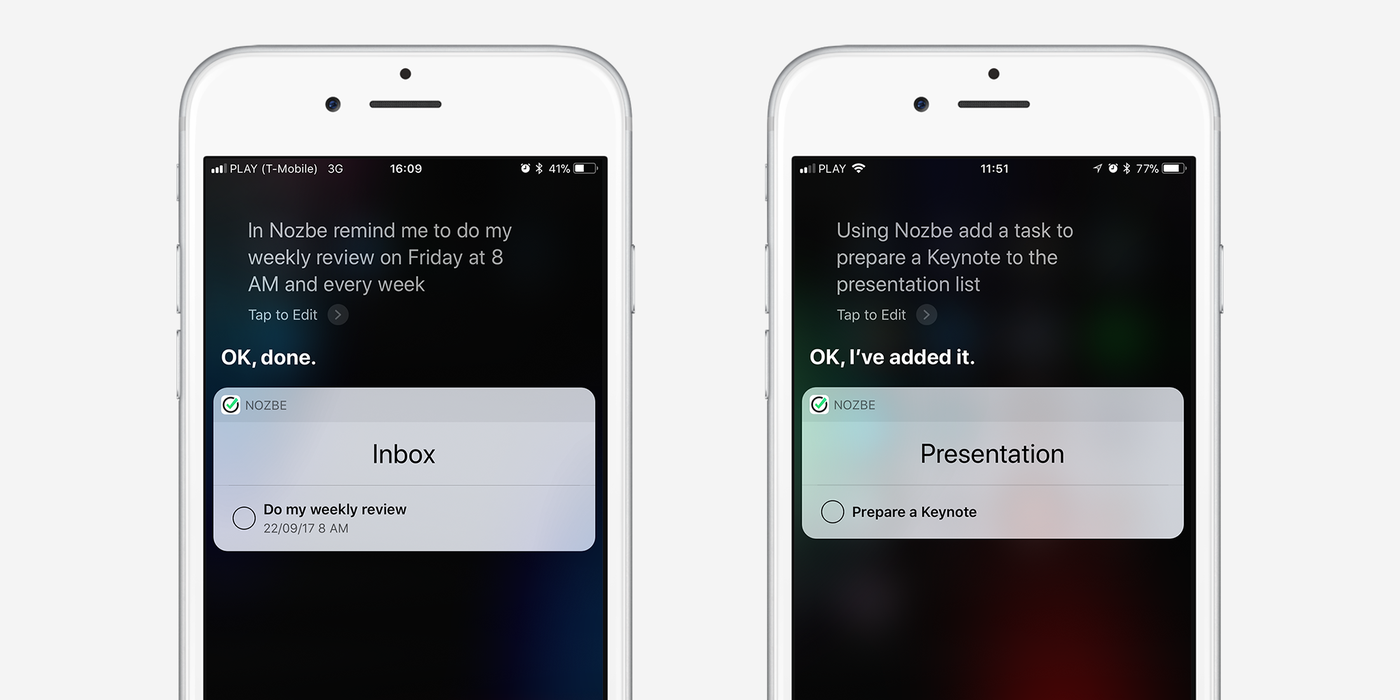 Siri understands adding tasks with:
due dates and time
basic recurrence patterns
project
"In Nozbe add a task to call John #priority" - You can also use Hashtags to add other parameters. Just say "hashtag priority".
Today widget
You can enable Nozbe Widget in iOS Today View. Just tap on Edit button and select Nozbe form the list of apps.
Access your Priority list data very quickly using Nozbe iOS widget. The widget shows only most recent tasks on the Priority list and is available online.
Within the widget you can:
Open the add task window in your Inbox within the Nozbe app
Open the task directly in the app
Complete a task directly in the widget.
Open a priority list within the Nozbe app
Apple Watch app
Get even more productive with Nozbe on your wrist. Take a look at Nozbe on Apple Watch:
Priority List
Nozbe on Apple Watch makes it easy to view your priorities without getting your phone out of the pocket. Just glance at your wrist to see your most important tasks and complete them on the go. You can check off your tasks while running errands, or between meetings, or in the subway.
Get notified
Your Apple Watch will notify you about:
Your name mentioned - you will get a gentle tap on the wrist when someone mentions your name in a discussion or delegates a task to you
Delegated tasks - you will get a gentle tap when someone delegates a task to you
Due dates - you will get reminded of tasks when they're due
Project invitations - you can instantly accept or reject project invitations
Unlike notifications on your phone, these are rich and interactive. So you can see the comment in which you were mentioned or details of delegated tasks. And you can complete, delegate, comment or make them a priority — right from the notification.
Your day at a glance
See how you're doing with Nozbe Complication
When you add Nozbe Complication to your watchface, all it takes is a quick peek at your wrist to get a sense of how productive you are today. The ring shows your progress (the more you get done, the closer it gets to completion), and the number inside — how many Priority tasks you have left.
Add to inbox
To add to-dos and notes to your Nozbe, press firmly on the priority list to dictate new tasks. You can add them to your inbox so you can deal with them later on your Mac or iPhone, or you can tap the star to make them a priority. You can even use hashtags to add a due date, a project name or other details (just say "#tomorrow #project").
View tasks
Tap on priority tasks to see comments and more details. Press firmly to choose from 3 available options:
complete the task
delegate it to someone
add a comment to the discussion
Download Nozbe for iPhone and Apple Watch
Keyboard assistant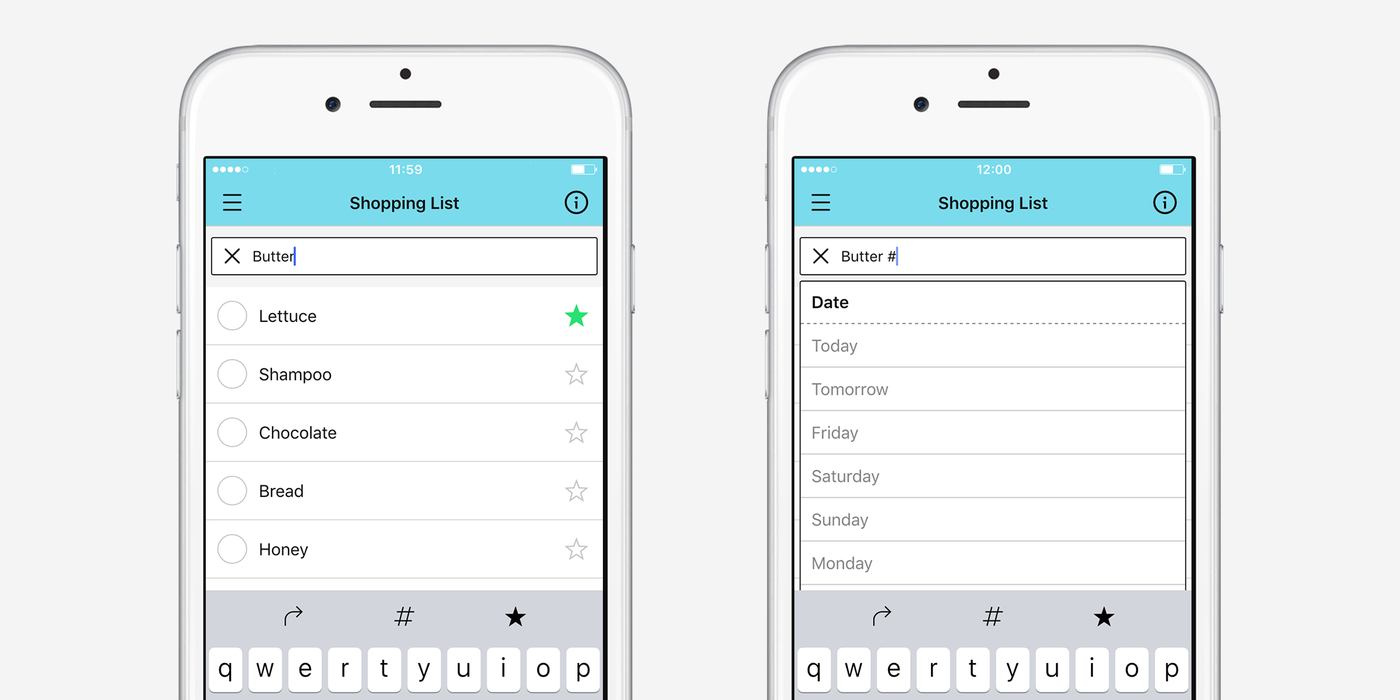 Nozbe on iPhone has a new cool feature we call the keyboard assistant. When typing in new tasks, you'll see three new buttons above the keyboard:
Direction arrow. Usually, tasks are added to the top of the list in Nozbe. However, sometimes you might want to append them to the bottom, for example, when noting low-priority items, or when you start a new project and want to enter multiple tasks from top to bottom.
Hashtag key. When adding new tasks, you can use the hashtag notation to mark them with extra parameters. For example, "Review this project #tomorrow #every week" will make the task due tomorrow, then repeating every week. It isn't a new feature, but the "#" key is now instantly reachable. (We also made many improvements to the hashtag suggestion list.)
Priority switch. You can now mark a new task as a priority from any place in the app without leaving the keyboard area. Before, you would have to add the task, open it, and then mark it as a priority. (Or you would have to know about the secret "#!" hashtag parameter :)) Now, just tap the star before pressing the return/Next button, and whatever it is you're creating, it's a priority!
Share extension
Sharing from other apps in iOS is very easy thanks to Share extension support. Just tap Share button in-app options, select Nozbe and add a task. The item that you wish to share will be added as a comment to a task. Please note that adding a task via Share extension supports hashtags so you can easily set task parameters.
Task's Options
When you open a task in your mobile app, you have several options available to you. Just tap on three dots displayed at the bottom to open the menu. There you can choose what to do with the task.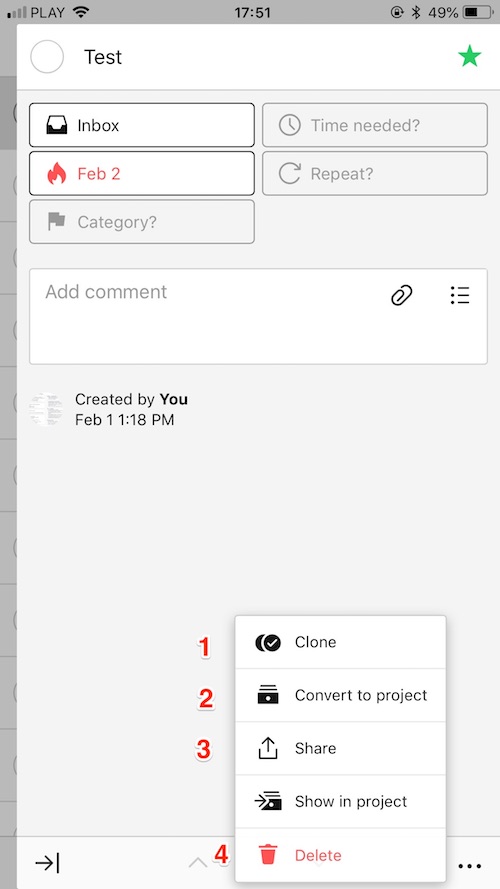 You can:
- Clone it (1) A task will be copied in the same project.
- Convert it to project (2)
- Share it to other apps (3). You can send your task to an app available on your smartphone, e.g. Facebook or any other social media channel
- Simply delete it (4)
nozbe://x-callback-url schemes
URL scheme is a special type of link that starts with nozbe:// and works just like normal https:// links you use every day. Instead of opening a webpage, it opens a specific view in the Nozbe app on iOS or macOS. Here is an example: nozbe://inbox - it opens Nozbe in the Inbox view. Below you will find technical documentation. If you want to learn how it can be used in practice read this blog post.
We implement x-callback-url protocol in our iOS and macOS apps. It is a useful method for creating workflows and shortcuts from other apps to Nozbe views and actions.
Nozbe URL Scheme actions look like this:
nozbe://x-callback-url/[action]?[action parameters]&[x-success parameter]
Actions
/priority
Opens priority lists and sets optional filters
parameters:
labels - filter by labels
categories - filter by categories
project - filter by project
user - filter by person responsible
example:
nozbe://x-callback-url/priority?labels=Label1Name,Label2Name&categories=Category1Name,Category2Name&project=ProjectName&user=Username
/projects
Opens project lists and sets optional filters
parameters:
labels - filter by labels
example:
nozbe://x-callback-url/projects?label=LabelName
/add_project
Creates a new project and returns its ID
parameters:
name - Name of the project to be created
labels - Labels to be assigned to the project
template - Name of the template to create a project from.
color - Color of the project to be created. Available colors:
gray, yellow, light-pink, mint, navy, orange, raspberry, lime, light-blue, coffee, pink, green, indigo, chocolate, purple
x-success:
id - the created project's ID
example:
nozbe://x-callback-url/add_project?name=xxx&template=TemplateName&labels=FirstLabel,SecondLabel&color=orange
/add_task
Creates a new task and returns its ID
parameters:
name - Name of the task to be created
x-success:
id - the created task's ID
example:
nozbe://x-callback-url/add_task?name=Your%20Task%20Name
pro-tip:
You can add task with parameters and comment by using hashtags. Hashtag is coded as %23
Example:
nozbe://x-callback-url/add_task?name=Your%20Task%20Name%23ProjectName%23CategoryName%232%20h%23%23Your%20Comment
/inbox
Opens Inbox
example:
nozbe://x-callback-url/inbox?
/project
Opens project based on name or ID
parameters:
id - Project's ID
name - Project's name
examples:
nozbe://x-callback-url/project?id=xxxx
nozbe://x-callback-url/project?name=ProjectName
/category
Opens category based on name or ID
parameters:
id - Category's ID
name - Category's name
examples:
nozbe://x-callback-url/category?id=xxxx
nozbe://x-callback-url/category?name=CategoryName
/goto
Opens specific view in Nozbe based on IDs.
To get a url to a specific view just shake your iOS device and select Copy URL from the popup menu.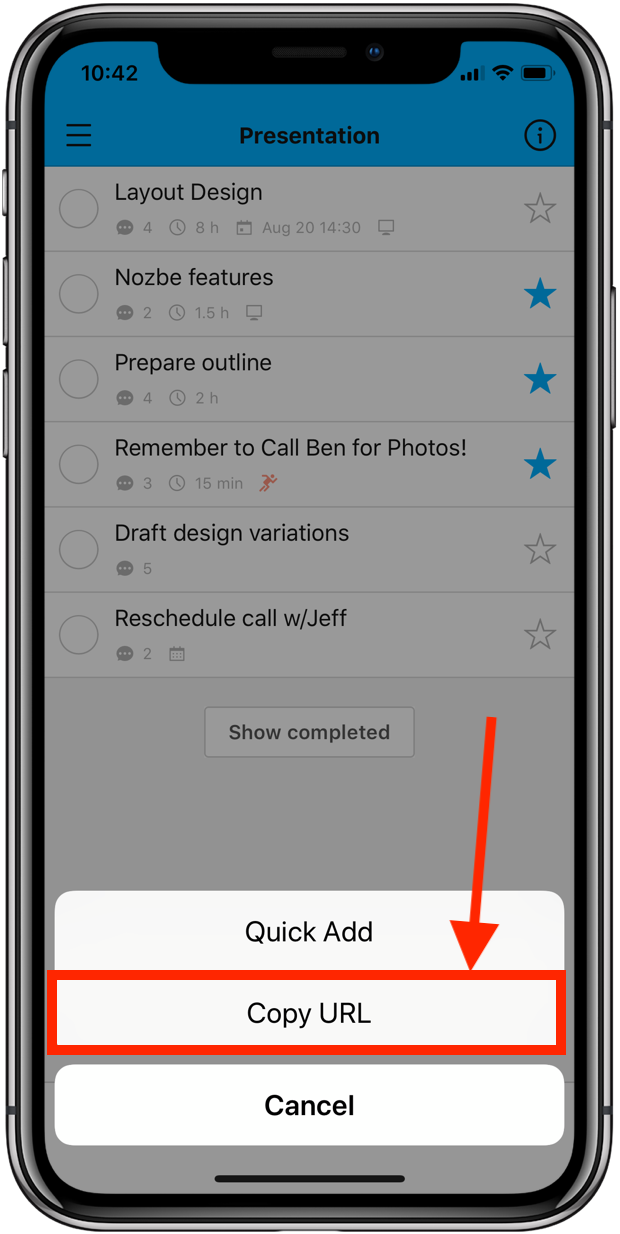 example:
nozbe://goto#projects-7QeP2f1wo68UJD3T/task-vmyQjE9zHoF7S7As
How Did We Do?
---