Nozbe on Android
Native Android features in Nozbe
Android app
Nozbe Widget
We now have an Android Widget you can use. Nozbe widget for Android works online, and it automatically refreshes every 30 minutes (or when you force the sync).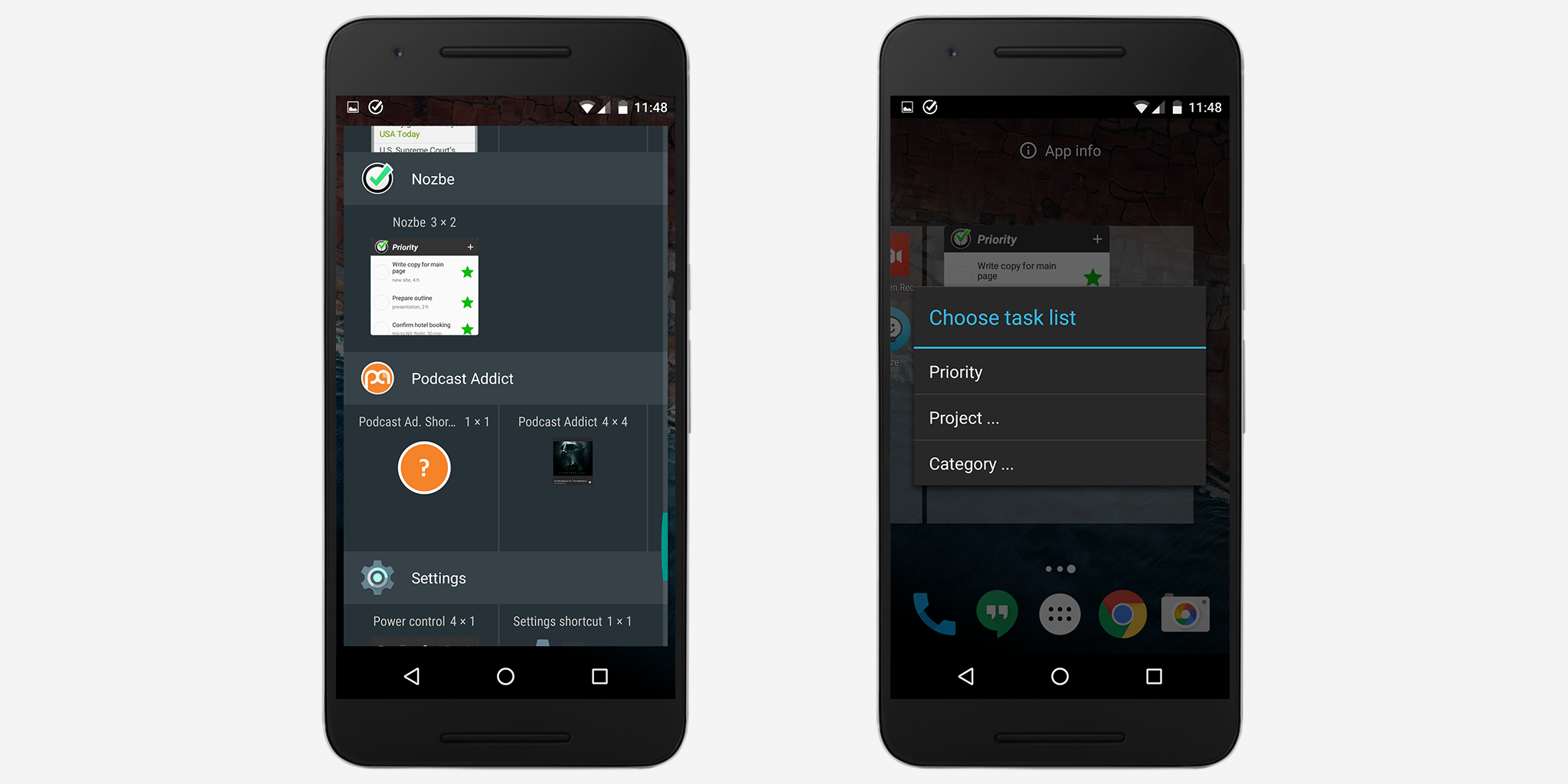 You can add it to your home screen very quickly. Choose "add widget" in your device's settings and then choose a Nozbe application. Please remember that this option may look differently on your Android device
You will see few options. You can choose the one that suits you best. Our widget can show you your priority tasks, tasks from one of your projects or tasks from a specific category. You can add as many widgets as you want (if you have space on your home screens).
Of course, you can resize it any way you want: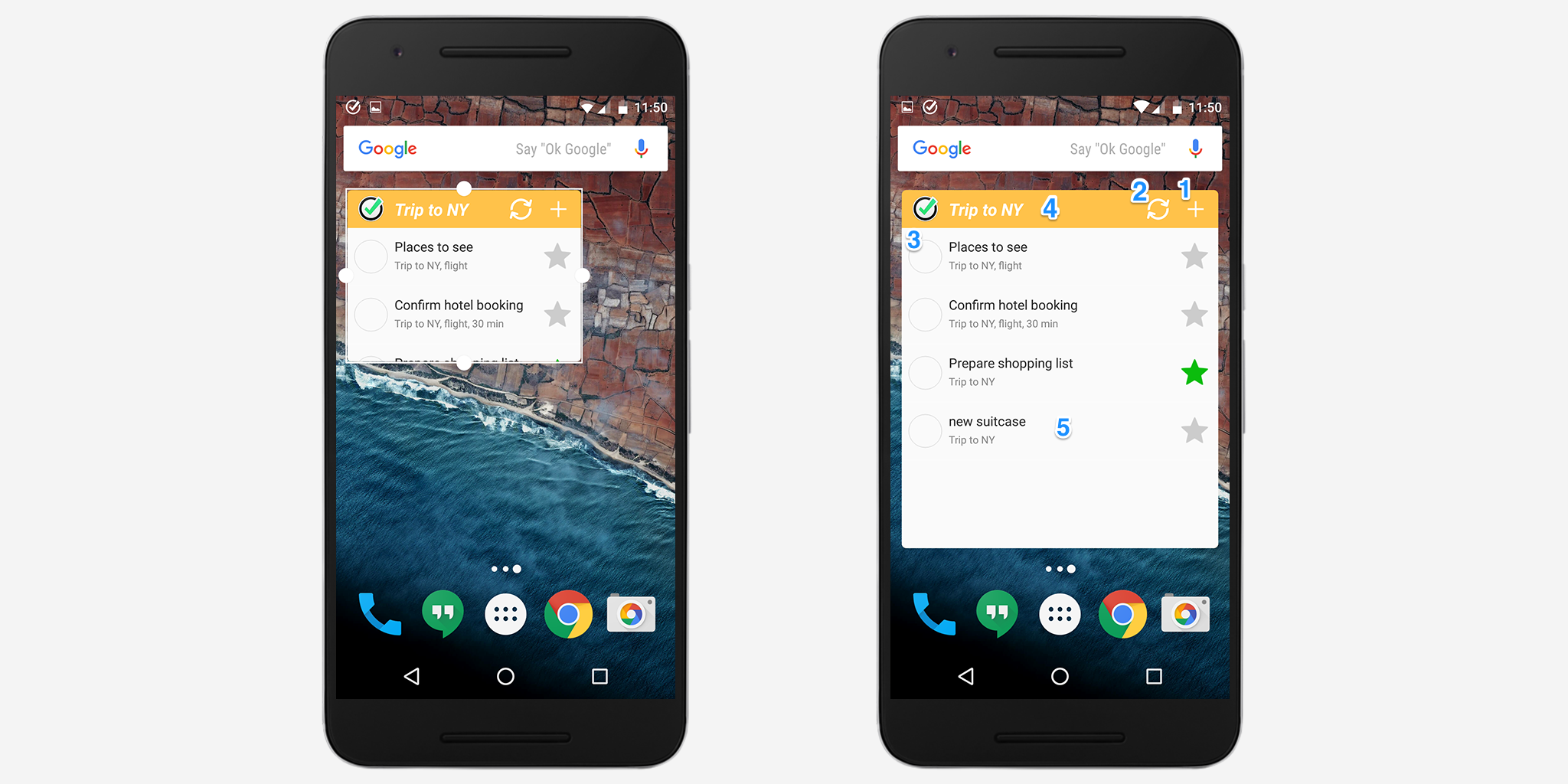 What can you do in Nozbe Android widget?
You can add tasks to your list.
Refresh widget state.
Complete a task directly in the widget. All tasks finished that way will show as completed in your Nozbe app as well after the first sync.
Open task directly in the app by tapping on it.
Open list directly in the app by tapping on it.
However, you cannot add priority (star) to your task.
Also, please remember that if you move Nozbe app to your SD card, the widget stops working correctly.
Quick Add
Nozbe for Android now features Quick add notification which allows for quick task adding from any screen on your device without even opening Nozbe app itself. To turn on this feature now, go to the Settings -> General -> Local settings and check "Quick add" (1).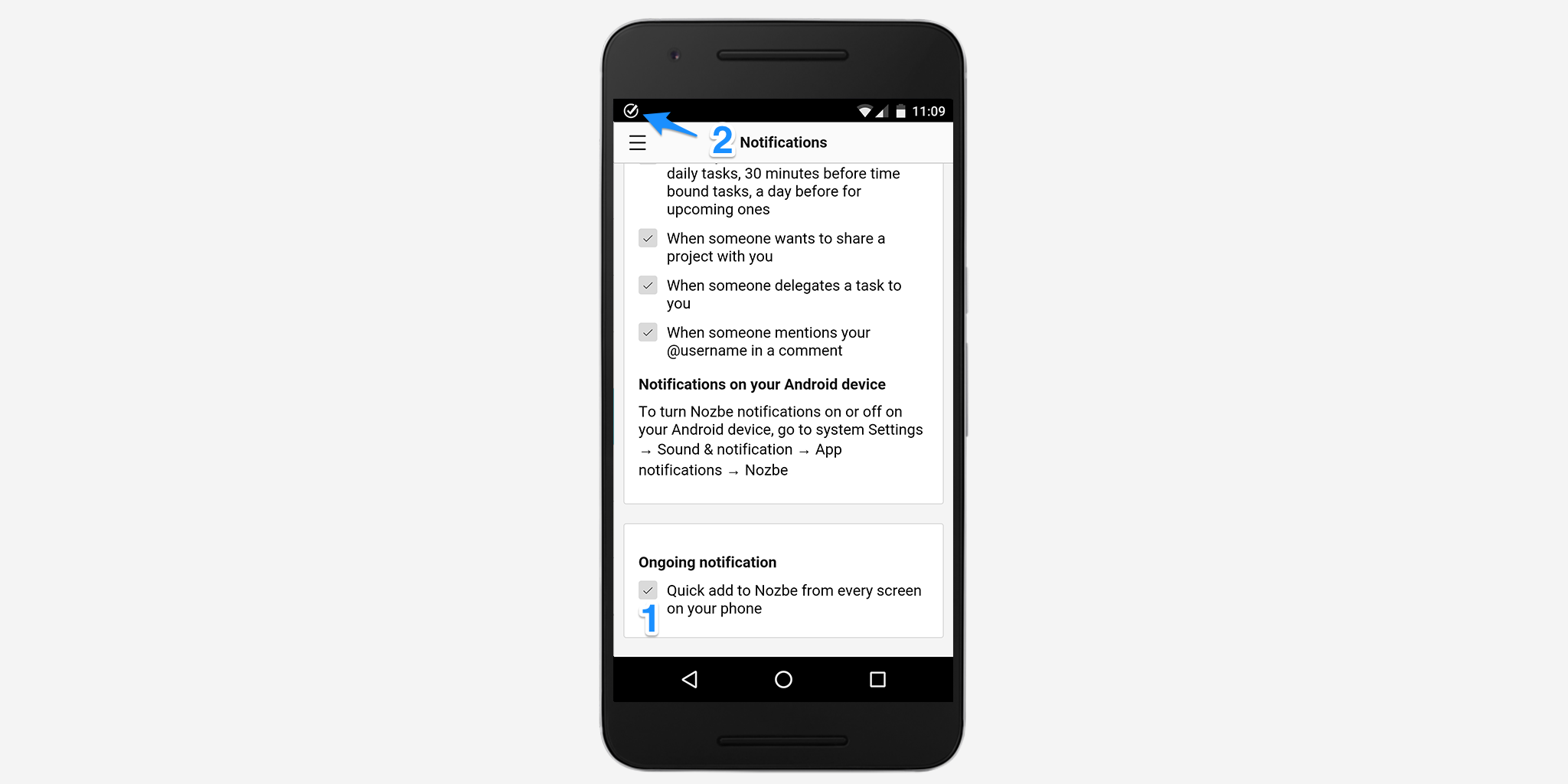 All you have to do is pull down notification bar; you will see Nozbe icon on the Android status bar (2), tap on the always visible "Add task to Nozbe" notification and enter task name. Not only that! You can also specify any project, category or delegation using hashtag notation. There is an option to add date, comment and priority to the task as well.
If you don't see it, please go to "Settings" -> "Apps" -> "Nozbe" -> "Notifications" and turn the option on. Otherwise, the Quick Add won't work.

Task's Options
When you open a task in your mobile app, you have several options available to you. Just tap on three dots displayed at the bottom to open the menu. There you can choose what to do with the task.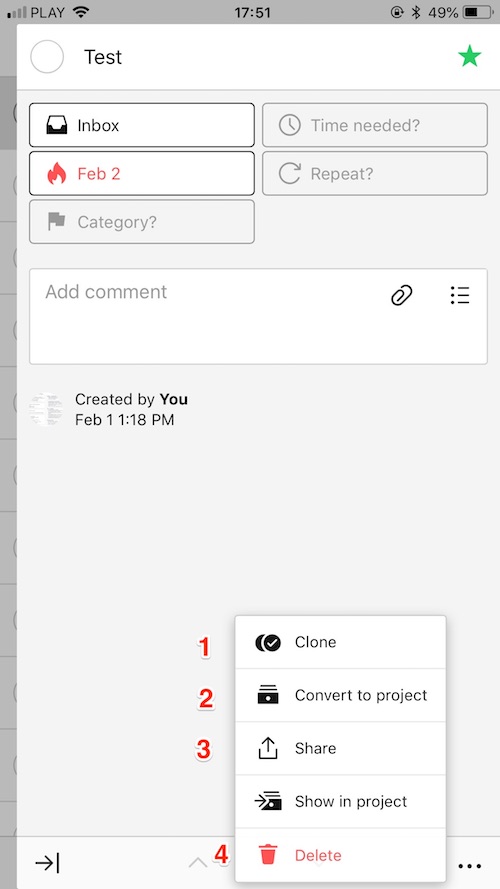 You can:
- Clone it (1) A task will be copied in the same project.
- Convert it to project (2)
- Share it to other apps (3). You can send your task to an app available on your smartphone, e.g. Facebook or any other social media channel
- Simply delete it (4)
Share to Nozbe
Sharing from other apps in Android is very easy thanks to native share menu support. TapShare in-app options, select Nozbe and add a task. The item that you wish to share will be added as a comment to a task. Please note that Adding task via Share menu supports hashtags so you can quickly set task parameters. You can also add priority and date.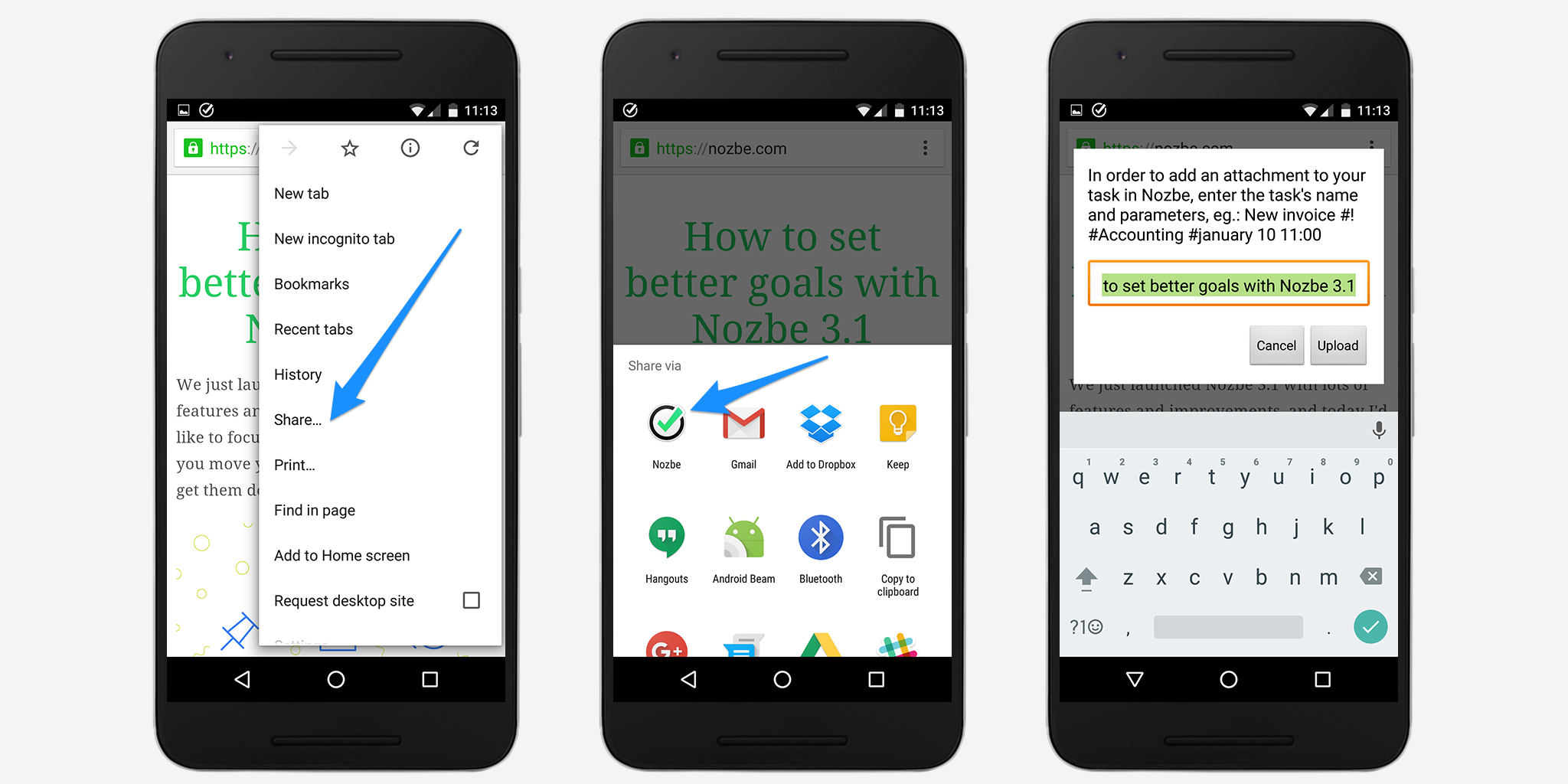 Adding tasks with Google Now
You can add new tasks to Nozbe handsfree, just with your voice. Say "Ok Google" and use the command "Add a note." When doing this for the first time, you'll have to select Nozbe as an app to add a note with. Dictate your note, and that's it! The first line of the note will be used for a task name, and the next lines will be added as a comment. Please note that the dictation feature for this command only works in English.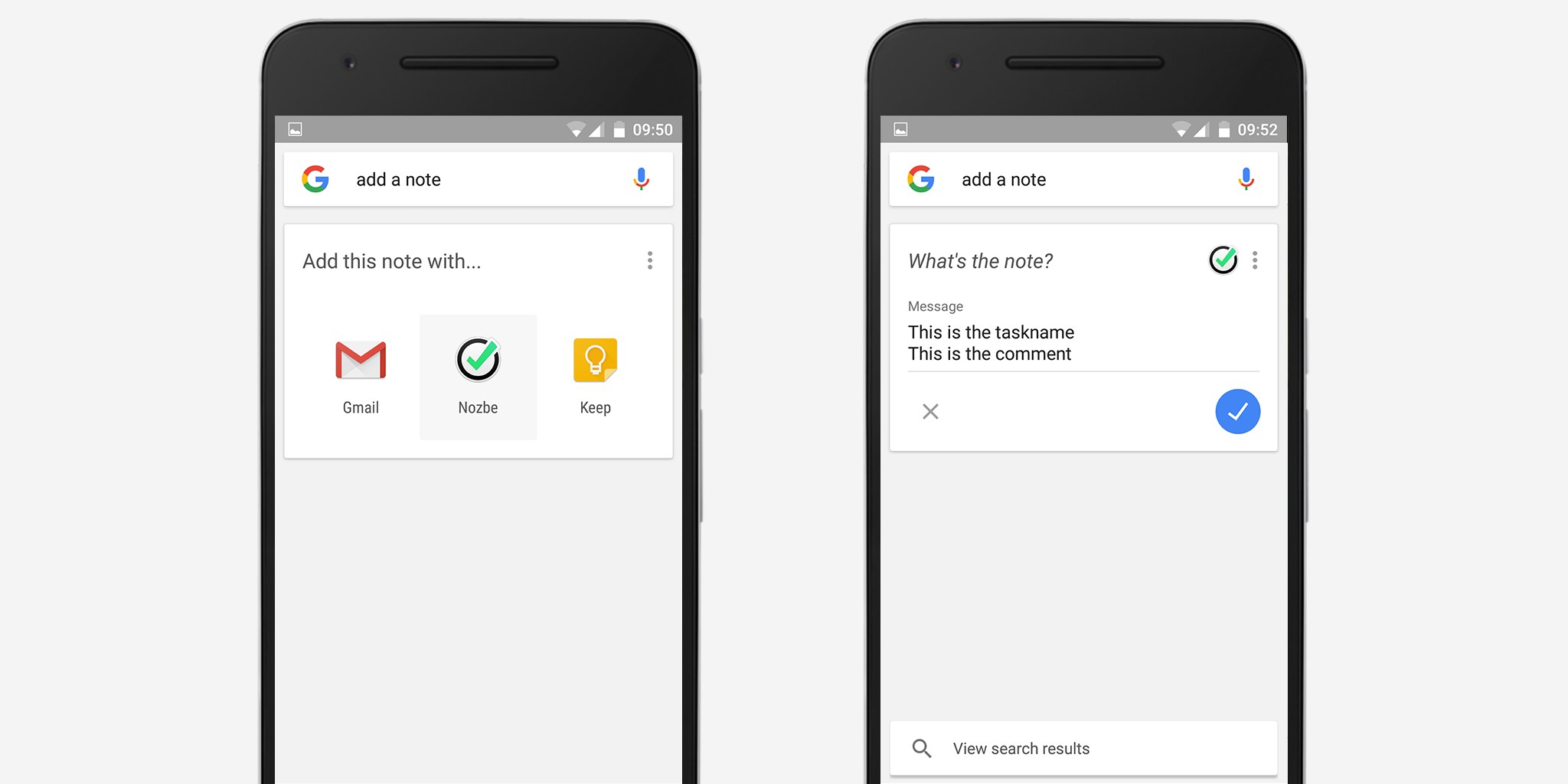 Google Assistant
This integration is independent from the app so that it can be used not only on your Android smartphone but also on Google Home and other devices in the future. Please note Google Assistant is currently available only in English.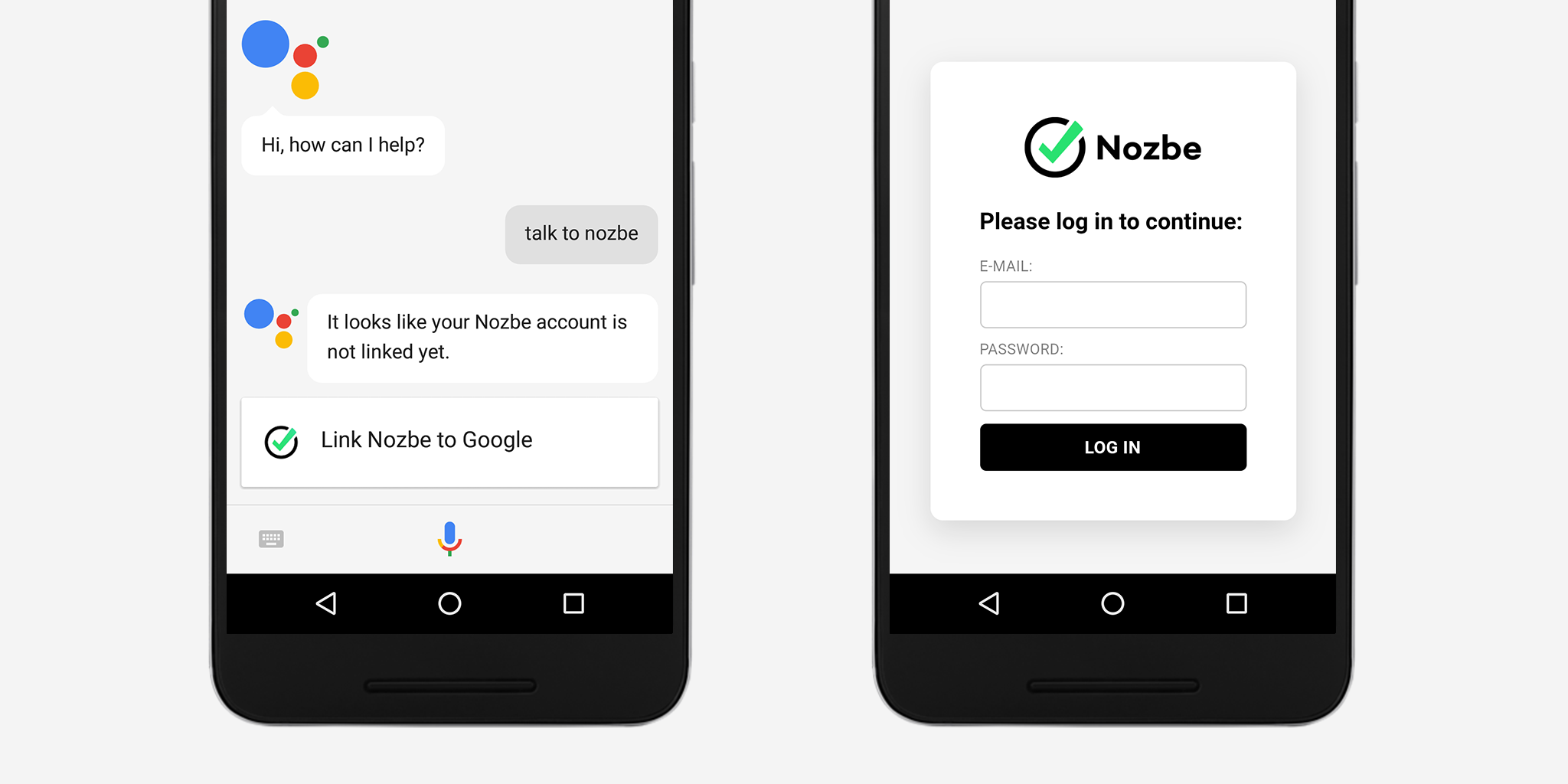 To connect your Nozbe account with Google Assistant:
Open Google Assistant and just say "Talk to Nozbe"
Tap button to Link your Nozbe account to Google
Log in on the special website with your Nozbe credentials and that's it.
Now you can "talk to Nozbe." Google Assistant understands adding tasks and task parameters such as:
due date
repeat
time needed.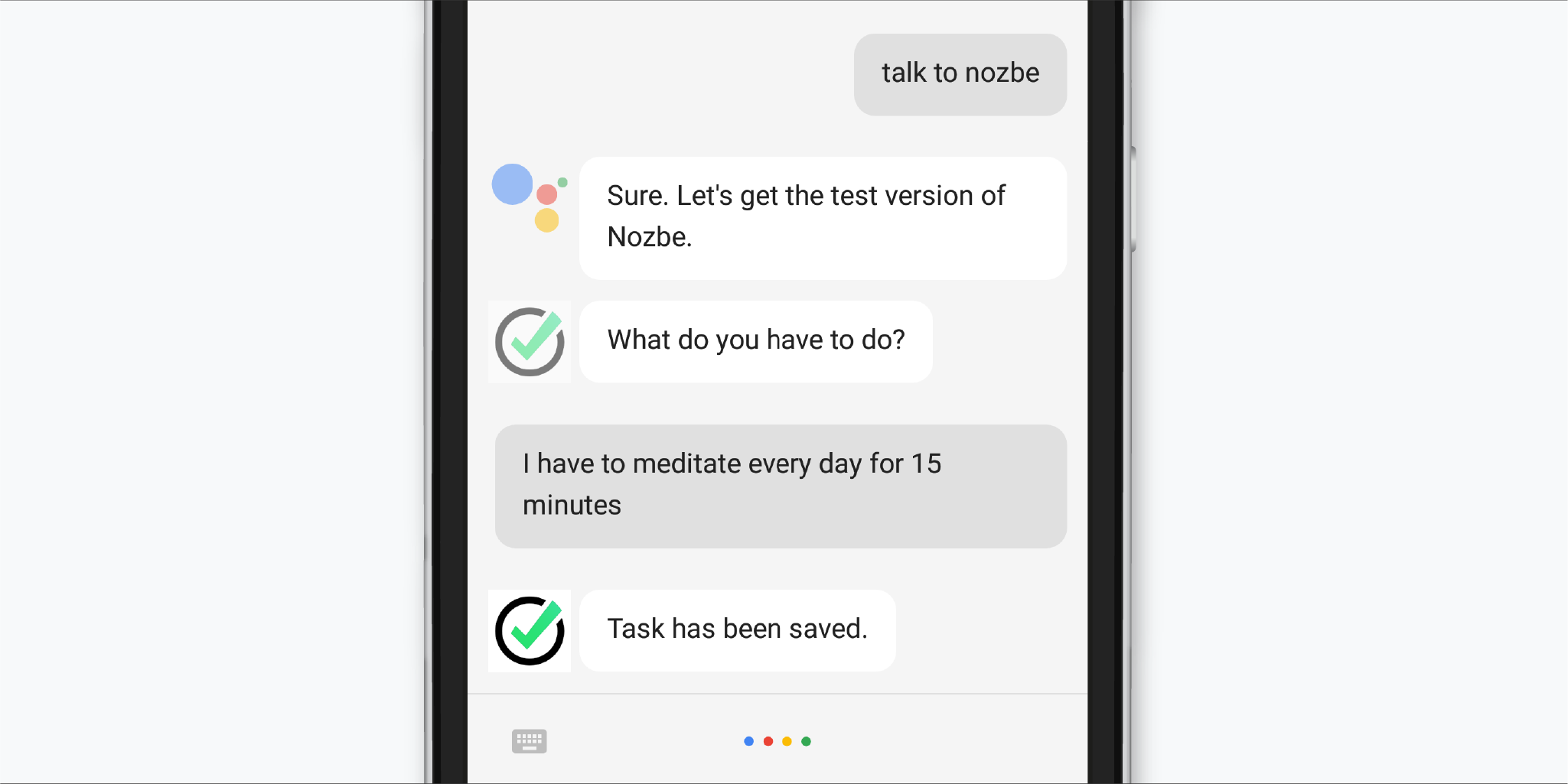 Here are some examples:
"Remember to buy milk"
"Remember to go to the hospital on Monday"
"I have to take a break for 15 minutes"
"Remember to go shopping tomorrow"
"Remember to go to work everyday"
"Add everyday task walk the dog"
How Did We Do?
---